'Adventure Loving' Dating Sites*
Along with Adventure Passions (the site you are on now), the sites listed below all focus on connecting adventurous singles with other like-minded singles. The sites listed below range from those focused on Adventure Dating to others focused on Adventurous Chat. So, if you are looking for a great dating site focused on adventurous singles, there are a few to choose from, so look through those below to find one that seems like the best fit for you.
AD

Date Outdoors Men
Find Adrenaline Junkies Here
Where there are a lot of different types of dating sites, Date Outdoorsmen helps to connect singles who like a variety of outdoor activitites from rock climbing, to hiking, to hunting and much much more. If you love exciting outdoor related activities, join for free and explore the options within the site and the members who have already registered!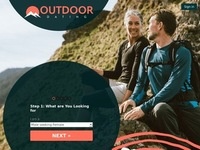 OutDoor Dating Network
Find Outdoor Loving Singles Here
OutDoor Dating Network is filled with singles interested in meeting up with others to explore the great outdoors. If you are looking for a date or just someone fun to spend time with as you take on one adventure after another, then this could be the site for you. Join for free and choose the version of the site that best matches your interstes. Have fun!
ATV
Backpacking
Camping
Canoeing
Caving
Horseback Riding
Kayaking
Mountain Climbing
Paragliding
Rock Climbing
Skydiving
AD
*Sites listed on this page are a combination of ads, affiliate related Sites and general non-partnership related sites that match the theme of Adventure Passions.